Dezent

Alloy Wheels
Alloy Wheels
Carnoisseur have a full range of Dezent Alloy Wheels. To view the Dezent Alloy Wheels we offer simply make your selection below. You can purchase Dezent Alloy Wheels on-line or through our network of Carnoisseur Outlets.
To find out more about Alloy Wheels click here to view our Carnoisseur Alloy Wheels Guide.
x4
Set Of 4 From Only

£577.00
View Details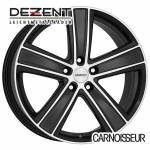 x4
Dezent TH Dark
Matt Black with Polished Face
16" | 17" | 18" | 19" | 20"
Set Of 4 From Only

£577.00
View Details
x4
Set Of 4 From Only

£639.00
View Details