About Us
Our Vision
Established in 1979, Carnoisseur has continued in our pursuit to bring quality car accessories, at the best prices, within reach of the true car enthusiast.
Initially this was achieved through a mail order operation. However, franchised outlets have traded under the Carnoisseur brand since 1986. This franchise model has been the cornerstone of our success and longevity in the specialist car accessory market.
The format of our franchised outlets has changed dramatically over the last few years. Originally they were traditional standalone Carnoisseur shops where customers would go to buy or order their products. Today though, most Carnoisseur outlets operate from within already established businesses, often with workshop facilities. Some outlets keep stock of fast-moving products (see their individual pages for further details) but most simply offer you professional advice, supply the products you require and provide a fitting service where necessary.
No matter the location picked though, rest assured all of our franchisees sell our range of products for the same price point as that seen online.
This concept is unique in our market and watch this space as more outlets will be rolled out across the UK and Ireland in the upcoming months. The franchised operation is supported by the Carnoisseur website, as well as our continued efforts to publish our annual catalogue.
If you have any questions about our services or product range, don't hesitate to contact us today.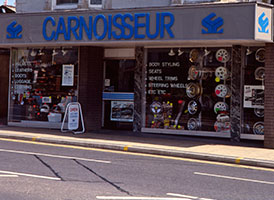 Next Page - Click here to view our History page.